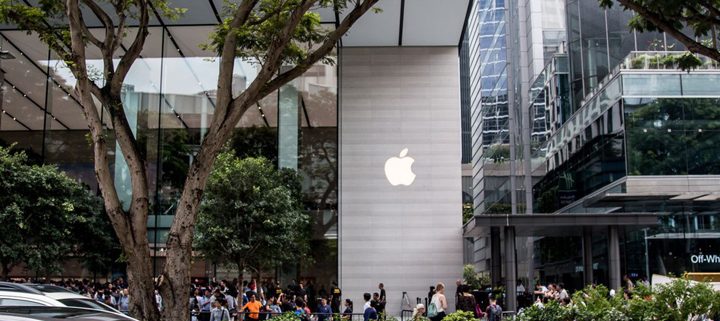 Apple just launched its first store in Southeast Asia
By YI SHU NG from MASHABLE Asia,May 25, 2017
Khajorn Chiaranaipanich flew for more than two hours to be one of the first people to experience Apple's first store in Singapore.
Witnessing its opening was very important for the managing director at a Thai social news company — so important, that he had been waiting in the queue at 5 a.m, five whole hours before the store officially opened.
Located at the heart of Orchard Road, the city's retail centre, Apple's opened its first Southeast Asian location and added its ninth high-profile Apple Store globally, amidst others in Ginza, Dubai, Soho, and New York.
"It's the first Apple store in Southeast Asia, so it's very important for Thai people," Khajorn told Mashable. "If they build an Apple Store here, it means that they're building something for us in Southeast Asia. The next market could be Thailand or Indonesia or something like that."
A long line of people were already queueing up outside Knightsbridge Mall, before the store opened at 10 a.m. Singapore time.
Some were there since 5 p.m. the previous day. And like Khajorn, many flew in from places like China to witness the store's opening.
"We were going to start school [in Singapore], and when we heard that the Apple Store was opening, we wanted to be here," said Yang Chen, a 28-year-old graduate student from Xiamen, who was at the Apple Store from 8 p.m. the previous day.
Grey shirts with the Apple logo, a heart shape and a red dot — symbolizing Singapore — were given out to the first few customers.
"We've been waiting for this store for so long… being at an Apple Store is a different experience. It's not like going to an Apple authorized sale centre. It's very lovely to be here, it's like a shrine for Apple fans," said Reyazuddin Shaik, a 40-year-old Singaporean, had been queuing up since 8 a.m.
Apple's launching the store in a region where Apple has faced immense competition with much cheaper Android alternatives, like Xiaomi, Oppo and Samsung.
It's also faced difficulties with trade regulations in Indonesia, that prevented the tech giant from launching the iPhone 6S in the country.
The Silicon Valley tech giant was only able to launch the iPhone 7 in neighboring Indonesia in April this year after acceding to Indonesian regulations.
While Singapore is a small market for Apple — the island has the highest smartphone penetration in the world — there's still a burgeoning market for Apple in surrounding countries, where smartphone penetration is not as high.
Demand for high-end devices have increased in the region, according to research from IDC, a marketing intelligence firm. In 2015, more than 100 million smartphones were sold in the region, which has a population of more than 600 million people. The number is expected to grow even more in the years to come, as an estimated 3.8 million people come online in the region each month.
Besides being home to Apple's products, the store also features the tech giant's Today at Apple program, with workshops, events and in-store classes occurring with local talent. Apple envisions the store as "modern-day town square," and expects it to be one of its most popular.
The program in Singapore's Apple Store will focus on photography, film, coding, music, art, and design.
RECHI Retail delivers global mobile phone retailers most comprehensive & reliable retail merchandising security & display products!we could offer you one stop visual display security solutions for Apple Store.
https://rechiretail.com/wp-content/uploads/2017/06/apple-store-in-singapore.jpg
400
720
RECHI
https://rechiretail.com/wp-content/uploads/2016/07/rech-logo-1.png
RECHI
2017-05-27 14:14:04
2017-07-05 07:55:22
Apple just launched its first store in Southeast Asia